Every real profession demands that its members read to remain relevant. Their members research topics including the latest trends, industry obligations, case studies and research findings. Those within their ranks who are respected most are the ones who develop insights, achieve the best results and publish their findings.
According to CEB research, 95% of buyers expect insight from the seller. Yet Forrester Research highlights that 85% of sellers fail to meet buyer expectations while CEB research found that 86% of sellers fail to differentiate in the mind of the buyer. We clearly have a problem but it can be solved when sales people embrace imperative to write within the guidelines of their company and with management and marketing serving as editors.
If you want to transform the way you sell, commit to reading and then writing. Don't just read about how to sell, also read about the issues that impact your clients. Researching and writing is the best possible sales training a person can have because it forces the individual to go deep and test assertions while creating their own authentic narrative. Here is why sales people need to write but…
Should sales people write or 'curate' content during office hours or selling time? … No!
Sales people should instead invest 30 minutes a day in their own time, before or after work, for career development. They should also work closely with their marketing department and manager to ensure quality, leverage tools, and be aligned with corporate messaging and policies. There are two types of content publishing:

Content curation. This is where you work with other people's content and publish Updates via LinkedIn, Twitter, Facebook, Google+ or other social platforms in which your clients and target market monitor and engage.
Content Authoring. This is where you create your own blog posts or articles that demonstrates insight and value for your target market. It is also how you evidence your credentials and set the agenda with those whom you seek to engage.
Content publishing is important because 75% of buyers use social media to research sellers before engaging (Source: IDC) and 74% of buyers choose the seller who first provides insight and value (Source: Corporate Visions). It begs the question: What do people see when they find you online? Do they see a sales person's CV or do they see a warm professional person offering insight and value?
Go beyond the basics of personal branding to also attract and engage with content
Content Curation
'Content curation' is the process of working with other people's content where you add brief commentary and then share with your network. Your goal is follow those who are relevant for your target market and then become the 'forager for the tribe' as David Meerman-Scott says. Everyone is busy and you can provide value by being a content aggregator where your market can simply follow you to see content from dozens of sources they don't have time to research individually themselves.
Who are the journalists, bloggers, analysts and industry leaders that your market audience follows and respects? By attaching yourself to these personal brands you elevate your own, and by sharing their content with short additional insights and commentary you can create value for those who follow you. From this list, highlight the individuals with substantial following within your target market whose followers you would like to become your own. Who has substantial following within your target market?
The above format is my simple way of recording the details of those who can provide you with valuable content to then share with your network. Hootsuite or Buffer are excellent technologies for easily creating a scheduling content to be automatically published at the best times.
5 Topics to Inspire Content Creation
We need to publish content write about what interests our audience instead of projecting our 'value proposition' or factoids about our company, product or service. Importantly, we must be clear about who we are targeting with our content and here are content categories that sales people and marketers can use to create blog articles to write that attract and engage clients.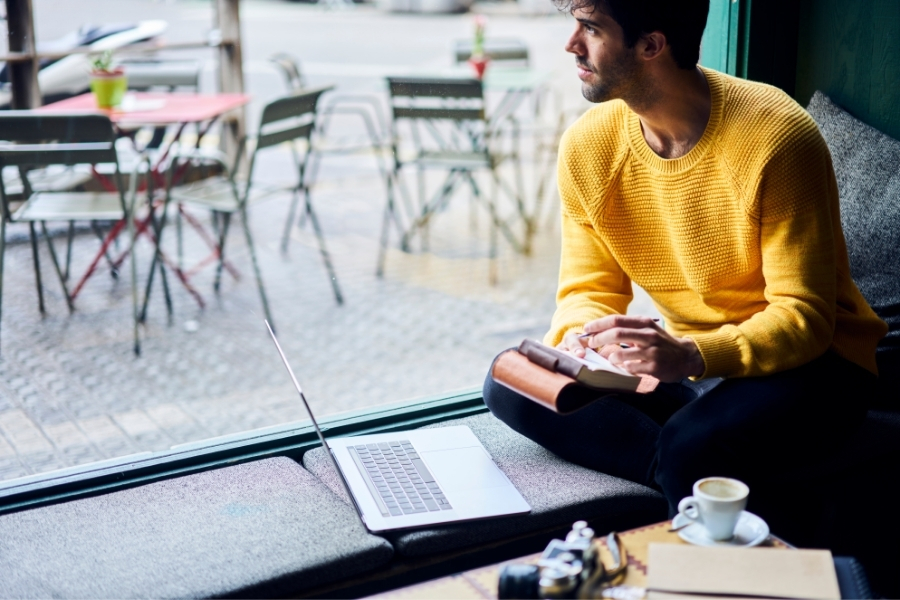 Your customer's fears and concerns (competition, disruption, etc.). Without writing from a negative perspective: What are the risks that your customers face? What competitive risks that worry them? How are they being 'disrupted' by technology, changes in the economy or legislation, agile competitors, off-shoring, etc. These topics and more can be the subject of posts you write
Insights from research data that impacts your customer's world. Search and subscribe to analysts that comment of your customer's industry or the trends that impact them.
Blind Case studies evidencing how things can be improved. Every sales person needs to be masterful at telling powerful true stories of how their customers solved problems, created business cases, managed change and delivered transformation. Even if the client won't do an official case study or testimonial, it can be written by the sales person and attributed along the lines of: One of my clients shared some insights with me recently concerning how they ….
Objection neutralizers that positively position and set the agenda. As an example, I work with a client in the recruiting industry and a common objection is: 'I'm too busy meet but if you have a candidate then send me their CV'. I've coach recruitment sales people to write posts along the lines of: How 20 minutes saves 12 hours and dramatically reduces hiring risk. Skills, experience and qualifications are easy to screen but cultural fit is where the greatest risk resides in a hiring decision. List all of your common objections such as 'I'm too busy', 'We have an incumbent supplier', 'You're too expensive', etc and write about why that is the very reason they should meet you.
Newsjacking topical events to create interest. When Harrison Ford crash-landed his plan on a Californian golf course, I had this post up within 90 minutes.
Trigger events are excellent opportunities for both content creation and initiating contact with potential buyers. What events provide potential opportunities to improve your own customer service, intercept competitor customers, or engage potential clients early in their buying process? In the mind of the buyer, trigger events create awareness of opportunity or need and can amplify perceptions of pain. These events can motivate people to take action to change the status quo? Trigger events can include changes in personnel, a major scandal, legislative changes, new compliance obligations, products going 'end of support', suppliers being acquired or dropping the ball, competitor staff leaving or retiring, new leaders coming into the organization. My worksheet below is ideal for identifying trigger events and establishing the best way to monitor.
Sales people should work with their marketing team to formulate strategy, select the right tools and secure the right levels of training and support to build their individual sales pipelines. Here are my tips for going beyond content curation (working with other people's content) and writing your own material that sets you apart as a sales person:
Identify your audience and then write for the one person or role you are seeking to influence. This makes it targeted, personal and on point.
Be clear in your own mind about why your message is important and what you want them to do about. But avoid any call to action that overtly seeks to sell or paints you as a salesperson.
Create a catchy headline (think like a newspaper editor).
Use an eye-catching picture that has an abstract relationship to your topic. Honor copyright by using 'common use license' images and attribute source, or use your own photos.
Have an opening that hooks, a body that informs and a close that motivates or inspires. Deliver insight rather than mere information.
Aim for 700 words and don't ramble. Longer is okay and some of my best posts with more than 220,000 reads have well over 1500 words.
Create back-links to other content but never use click-bate to take people to another site where they have to complete forms or register to view content.
If you don't read, then you're not a professional. If you can't write, then you can't sell because you are incapable of building a strong personal brand online that shows insight and attracts clients.