If you are in B2B, selling complex solutions into the Enterprise space, ABM is the buzzword that no doubt you keep hearing. The statistics on ABM success can't be ignored and chances are, there is a debate in your organisation whether to start with ABM.
Sales Directors, are you often at loggerheads with your marketing counterparts, being questioned about leads, MQLs, SQLs? Do you wish the conversation would shift to marketing helping you generate pipeline and revenue? If so, Account Based Marketing (ABM) could change your life – but a word of warning – it is not suitable for every organisation.
We are seeing ABM playing a strategic role in delivering growth and innovation here in Australia, but it requires close cooperation of business, sales and marketing leadership. Why? The overall business strategy forms the North Star for any future ABM programs.

This article aims to help you gain a basic understanding of "if" and "how" you and your Sales teams can benefit from ABM.
Sales Directors – how to help your marketers help YOU?
Account Based Marketing is a slightly outdated name for what we now see more accurately described as ABE "Account Based Engagement". What's the difference between ABM/ABE and the traditional B2B marketing approach?
Traditional B2B is about reaching your total addressable market and generating individual "leads".

ABM focuses time and resources on a handful accounts with high revenue potential – consistently developing and nurturing relationships with multiple stakeholders across the account – over time. ABM/ABE is about achieving the "Collective yes".

Another major difference lies in the approach: ABM is NOT something marketing "does to sales". ABM is all about close Sales and Marketing collaboration throughout the process. This is often the biggest hurdle to remove when starting with ABM, as the two organisations sometimes tend to operate in siloes.
ABM enables modern B2B marketers to play a strategic role in delivering revenue growth and innovation but demands a lot more of them – to be successful, marketers need to understand not just the value proposition, but also your sales cycles, processes, points of entry, barriers, and more. This is a great opportunity for Sales to open channels of communications, mentor your marketers and bring them into the fold – believe me, they will enjoy being part of the Pipeline and Revenue generating gang! What can you do to help? Firstly, start including your marketers in your Account planning, QBRs, some forecast calls, and wherever possible – have them present during conversations with customers and prospects.

Understanding each other's challenges will make it much easier to align your KPIs and to collaborate.
ABM – what it is, what it is not
While there are a few interpretations of ABM, the main objective is very clear: Generate revenue & increase footprint in Target Enterprise Accounts, by growing relationships, reputation & trust. After practicing ABM for 7 years here in Australia and New Zealand, my short definition of ABM is as follows:
"Account Based Marketing helps companies that sell complex solutions into Large Enterprise space focus their time & resources on developing relationships & trust in accounts that matter most."
ABM harnesses deep account and contact insights to design tailored value proposition, treating each account (or an Account cluster) as market of one.

It is a LONG term, coordinated account centric approach to marketing and sales.
As ABM-ers, we are:
1. Focusing on few significant accounts that best resemble our "Ideal Customer Profile".
2. Enabling Sales to engage, develop relationships and influence the entire decision-making committee.
"Lead" is a dirty word. In ABM – we are focusing on ALL decisionmakers and influencers in the decision-making committee. Why? The inability to build consensus within the buying committee is likely to be a major obstacle to closing complex deals.
3. Tailoring marketing initiatives around client insights and their strategic objectives.This requires a deep research at an Account and Contact level – what are the strategic goals our solution can help solve at an account and individual level? What are the contacts' KPIs, drivers and personal preferences? How can we incorporate those in our sales reach out, so that they resonate with the recipient well enough for them to let us build a strong relationship?
4. Marketing & Sales collaborate closely throughout the sales cycle to increase deal velocity and size and the Life-time value of the account. ABM is a team sport, and success is largely dependent on the quality of intel exchange and collaboration and ability to orchestrate initiatives based on the Target Account current needs.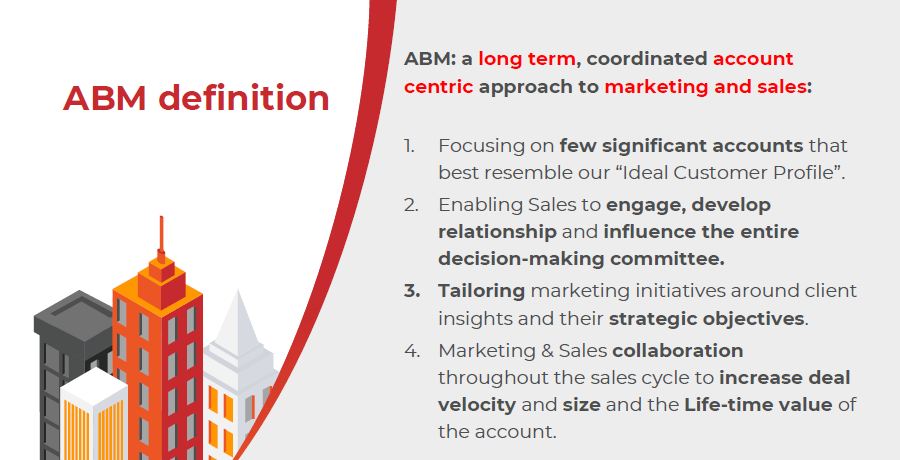 Is ABM a good fit for your organisation?
It is proven that ABM can deliver substantial ROI by building trust, relationships, and reputation in high value accounts. But is it the silver bullet that will work for everyone?
The answer is no – ABM is certainly not a good fit for every organisation. Why? For ABM to deliver ROI, certain criteria must be met:

1. You are selling complex solutions to Enterprise accounts (high value accounts)
2. Your sales cycles tend to be long and you are engaging and influencing multiple stakeholders (decision making committee).
3. Your deal size (or potential revenue) is large (in ANZ, typically 500k+) to justify the investment.
If your sales approach is largely transactional and you do not see a need to develop strong, long-term relationships in the organisations you are selling into, ABM is most likely not the right fit for you. In fact, using ABM in a transactional sales environment is a waste of time, effort, and resources.
Measuring success – how do we know it is working?
Since Marketing and Sales KPIs are aligned at the start of the ABM process, it is incredibly easy to measure success. As the picture below illustrates, we track the number of total opportunities, pipeline and revenue generated from ABM target accounts.

As you know, working with large Enterprise accounts with long term sales cycles (for example: a software platform solution for FSI vertical, with deal value between $3 and 15 million, with average sales cycle of 20 months), results will not appear overnight. We recommend setting up also interim KPIs related to improving relationships with key decision makers. You can measure increase in engagement, quality of relationships, penetration into new BUs etc.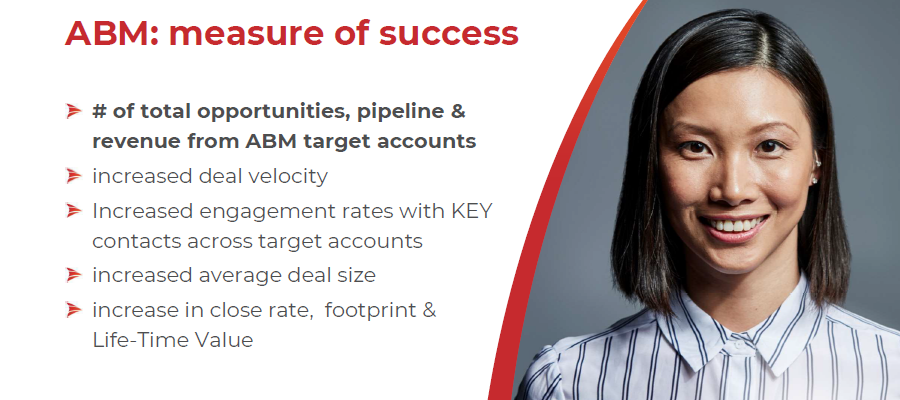 3 key takeaways:
Your overall business strategy is the North star of your ABM – if ABM is the right fit for your organisation, it provides a substantial opportunity to deliver revenue from high value accounts.
Marketing and Sales collaboration is crucial to the success of ABM.
Forget "leads", revenue is the result of strong relationships and trust. ABM enables Sales to effectively engage and develop relationships with key stakeholders across the entire decision-making committee.
Hopefully this article has brought some clarity and basic understanding of ABM and whether you and your teams can benefit from it. ABM is a long term, coordinated account centric approach to marketing and sales, not a tactic, campaign or a sales method.