Connecting with today's crazy-busy prospects is tough. Customers have always judiciously protected their time. But now you may not even be meeting them in person. More and more, your conversations today happen over the phone or online.
Online meetings are rapidly becoming the new de facto standard.
Savvy sellers have discovered that the ability to quickly move a phone conversation online yields a richer, deeper interaction with prospects. It enables them to discuss, demo or present using a variety of resources. As a result, prospect engagement goes up, new opportunities emerge, and deals close faster.
That's a competitive edge worth paying attention to—especially since only 58% of salespeople met or exceeded their quota last year. But right now, most sellers are barely tapping into online meetings because they don't know how or when to best use them.
Salespeople need to be nimble and ready to pivot. In conversations, they must be able to quickly spot and capitalise on emerging opportunities. It's even better if they can create these moments on their own.
That's exactly what savvy sellers do with online meetings. During a phone call, when they spot a need or when inspiration strikes, they immediately suggest:
"Do you have a few minutes? How about we jump onto a quick online meeting?"
That's sales agility at its best. The key to success with these impromptu online meetings is strategic spontaneity. Savvy sellers are prepared. They know the best times to suggest this option and they know how to do it, seamlessly. They know what they'll ask, point out, suggest or clarify.
In short, they nail it! These savvy sellers create an "aha" moment that crystallises value and drives differentiation. When the conversation is over, they've established credibility, deepened the relationship and moved closer to a signed contract.
1. FOCUS ON PURPOSE
What outcome do you want to achieve from jumping online with your prospect? Always start with this question, then craft a meeting plan that supports it. The best "purposes" are typically aligned with the various stages of a prospect's buying cycle. These are the three main ones.
Pique Curiosity. If you're prospecting, know that more than 90% of the people you contact are reasonably satisfied with their status quo— whatever that might be. When you connect, your objective is to get the prospect so interested that they want to learn more—either now or in very short order.
Drive a Commitment to Change. Once you've piqued your prospect's curiosity, their next step is to determine if it makes sense to change. This is your opportunity to help them determine their business case. It's also a chance to explore the factors they need to consider if they do go ahead.
Close the Deal. When your prospect has decided that changing is worth it, your purpose shifts to that of showcasing why working with your company makes the most sense, provides the best value and is the least risky.
For lead follow-up, try to gauge where the prospect might be in their buying process by reviewing what they've downloaded from your website and the pages they've visited.
When you know your purpose, it's time to identify when a "quick" online meeting can help you achieve it.
2. PINPOINT THE OPPORTUNITIES
When does it make sense to have an impromptu online meeting? Start by mentally identifying when it could be beneficial to jump online. Often visual elements are involved and referencing them while you're talking enriches the conversation.
You might want to consider an impromptu online meeting to:
Spark a new idea. If your offering enables prospects to do something they hadn't conceived of, pull up a graphic to trigger their thinking. You could also highlight relevant research or data that supports a change from the status quo.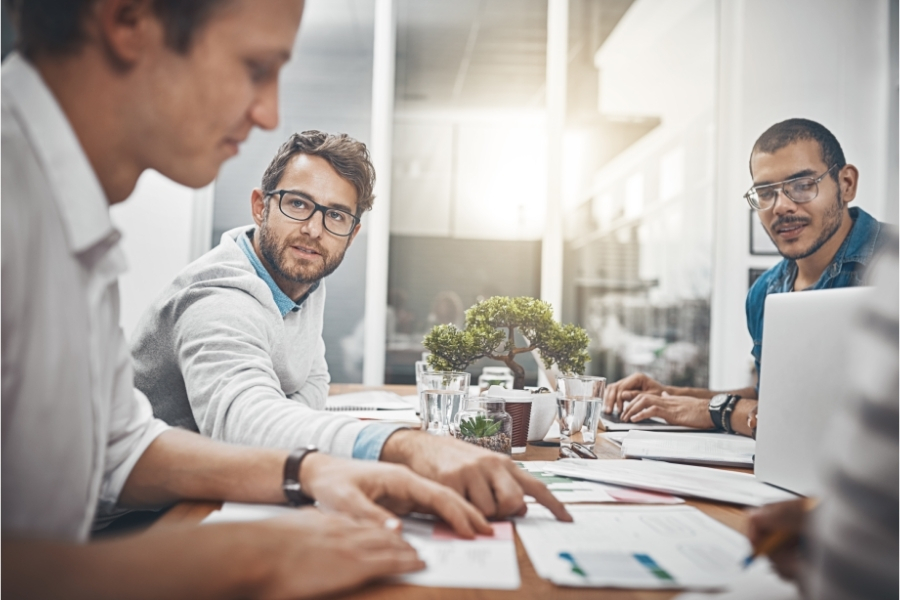 Expand on concepts. Once prospects are ready to change, they want to discuss factors such as configuring the right solution and implementation issues.
Do a demo. Give your prospect a quick tour of your solution. Whether it's an actual demo, screen shots, or animated, you can gauge their reactions.
Review in real-time. Any time there are questions or concerns re: proposals, pricing, layouts, design and more, the quickest way to resolve them is to jump online. When people post a need or comment regarding an issue you can solve, invite them to a virtual meeting. Again, they're already online. They just need to be online talking to you!
Research shows that people remember 80% of what they see and do. Online meetings, much more than phone conversations, make you and your message more memorable and engaging.
3. ZERO IN ON VALUE
How can you get prospects to invest the time and energy needed to change from the status quo? It's your toughest sales challenge. According to SBI, over 60% of forecast deals do nothing. That means you lose to "no decision" more than all other competitors combined.
If this happens to you, it's likely you've been doing too much pitching, trying to differentiate your product/service from competitors. Forrester Research reports that only 13% of executive buyers believe that a salesperson can clearly show they understand customer business issues and articulate a way to solve them.
During your online meetings, focus in on what matters most to your prospects. Be very specific. Increasing sales and decreasing costs is far too generic. Pepper your conversations with value propositions like these:
Increased sales productivity, enabling 30% more calls/day.
Reduced customer churn by 2.9% in just six months.
Stabilised workflow, eliminating 47% of overtime pay.
This is what prospects care about. This is why they'd change from the status quo. Use your online meeting to tailor the value to your buyer's position.
Don't get sucked into a "tell me about your [product/service]" conversation. Knowing about your leading-edge capabilities, unique methodologies and unbeatable service will not make people change from the status quo.
Instead, cut to the chase; make it abundantly clear about the value you can deliver to their organisation. That's what gets people to buy.
4. LEAD CONVERSATIONS
How can you create a meaningful dialogue in a quick online meeting? Huthwaite's research on 10,000+ reps in 30,000 sales calls revealed that the kind and quality of questions asked during a meeting had more impact on sales success than any other behaviour.
Asking questions allows you to showcase expertise, demonstrate concern, establish trust and build stronger relationships. Additionally, questions enable you to gauge a prospect's level of interest, expand the possibilities, determine your strategy and find the right solution.
To take advantage of your limited time together during an online sales meeting, consider these suggestions:
Plan questions ahead of time. Brain research shows that it's impossible to do two things at once. That's why it's imperative to figure out the best questions to ask and the right sequence before you initiate contact. Keep them in front of you, but feel free to go with the flow too—if it makes sense.
After asking a question, be quiet – especially if your intention is to make people think. The average salesperson feels compelled to jump in after 2-3 seconds, totally high-jacking the opportunity to learn critical information.
Wrap your questions in your expertise. Lead into them with phrases such as, "In working with other VPs of Sales, we find that …. Is this something you're struggling with too? Or "In talking to other manufacturers, their three biggest priorities are … How do those priorities compare to yours?"
It's your responsibility to lead the conversation—and the best way to do it is with thoughtful, provocative questions.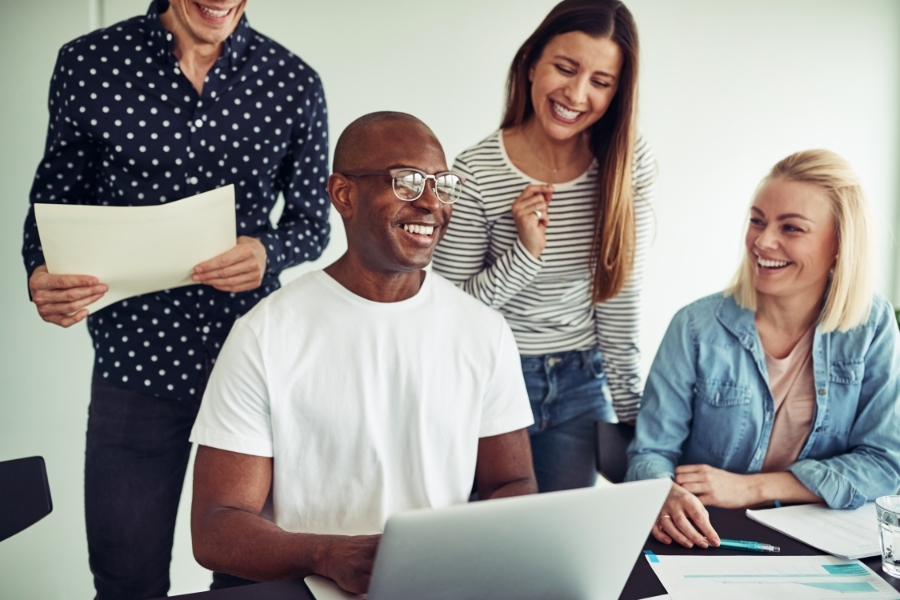 5. CREATE ENGAGEMENT
How can you be more collaborative? Online meetings give you a chance to interact in real time. They can be just as effective as actually sitting in your client's office, getting a deeper understanding of their needs, and discussing their business challenges.
Here are some ideas to make impromptu online meeting more engaging:
Rather than you doing a demo, try highlighting how easy it is and pass control to your prospects. Let them do it themselves. Sampling simplicity makes them more likely to change.
Use different content. Don't just show a presentation; change the info you share. Jump from a presentation, to a report, to a website. This on-thefly access to a variety of resources increases interest and involvement.
Bring your recommendations up on the screen and get your prospects' input. Find out what they like/don't like. Ask if the solution meets their needs or not— then make appropriate changes. This increases buy-in and the commitment to move forward.
Revise critical documents together. Invariably prospects want to make changes to your proposals, SOWs or contracts. It's much simpler to actually work on the "same page" as your prospects instead of trying to talk about it. With today's online contracts, it's pretty easy to move from conversation to proposal to contracting.
This real-time collaboration capability is also highly useful for internal usage—especially when multiple people from your company are involved in the sales process. It'll help you get things right before you suggest your prospect jump online for that quick meeting.
6. PICK THE RIGHT TECHNOLOGY
What's the right tool for you to use? Today, 30.3% of sales professionals believe that the online meeting tools they're using get in the way of sales, rather than helping. That's not good because it reflects on your competence. The solution you choose can be critical to moving the conversation forward or closing the sale.
To select the right technology, ask yourself these questions:
How easy is it to initiate an online meeting? This is crucial. You need it to be seamless. There's nothing worse than having to stop the conversation, figure out how to launch a meeting, send an invite, wait while your prospect downloads some software—and then runs into problems. You lose momentum, and your prospect loses interest. Plus, you get frazzled and all your best thinking evaporates into thin air.
Does it have the capabilities you need? When you start out, screen sharing might be all you need. But as you get more proficient you'll want video capabilities. This makes you more real" to prospects, increases engagement, deepens relationships and drives more sales.
Be sure to check how easy it is to switch between the key documents, demos, or presentations that you want prospects to remember. Also, advanced users may want to highlight certain areas, swap presenters, record meetings and create presentations "on the fly" via new online whiteboarding.
What's most important is that you select the right online meeting tool for your needs—and that it's a no-brainer for both you and your prospect.
7. GET REALLY GOOD AT IT
Whether scheduled or impromptu, running a flawless meeting is a skill that needs to be learned. While it may be simple to do, when you're talking to an interested prospect on the phone it's easy to flub things up. That's the last thing you want to happen.
Instead, you want to come across as the true professional you are.
Here's how you can prep for the maximum impact:
Set the stage. Sloppy desktops make you look disorganized, so get yours cleaned up. Shut down any pop-up messaging too. Or, if your tool allows, select the window-sharing option in addition to full screen sharing.
Know what's in your virtual briefcase. Being able to quickly locate the exact document, image, PowerPoint slide or resource reflects on your professionalism.
For video meetings, it's crucial to have appropriate surroundings, de-cluttered workspaces and good lighting. Make sure your webcam mic is clear enough; otherwise, get a headset. Put your computer at eye level so you're looking directly at the camera. Maintaining eye contact is essential for relationship building.
Do mock meetings with your colleagues. Practice logging on, sending an invite, doing a demo, passing the presenter role and re-taking control. Once you're proficient, have a colleague role-play someone who's new to online meetings—like a potential customer. That way you'll be prepared for that scenario too.
Remember, your prospects judge your competence in every interaction. This is one more opportunity to prove you're an invaluable resource.
8. FINALISE NEXT STEPS
So now you have zeroed in on business value. You've asked great questions. Your prospect is highly engaged. In fact, they're oohing and aahing about what you've covered. It feels like you've nailed it.
But have you? It's easy to get seduced at this point—especially if prospects start asking you all sorts of detailed questions. Sometimes it's good to put the brakes on to find out what's really happening.
Try asking, "It sounds like you're really interested in changing. Help me understand the business case from your perspective."
If they can clearly articulate it, find out what the next steps are to move the decision forward. Who else needs to be involved? What criteria needs to be considered? How will it be implemented? Or, suggest what you see typically happening: "Based on my experience
working with other companies, the next step is …"
If your prospect can't articulate the business value, you'll need to spend more time here. Again, suggest a logical next step: "Usually, at this point, we need to (engage other individuals, do more research, etc.) to determine if it makes sense to move ahead. Let's get that on the calendar."
Don't leave an online meeting without a clear action step. Know what you're doing next and get commitment from your prospect regarding their responsibilities.
9. TAKE IT TO THE NEXT LEVEL
How can you get even better leveraging impromptu online meetings? It's great to be able to quickly jump online with a prospect, but it's even better when you move from proficiency into mastery. Many service providers today offer the ability to record your meetings—and it's definitely something you'll want to take advantage of.
Initially, when you replay your meeting, you'll find all sorts of personal flaws that will drive you nuts. You'll hate your voice. You'll notice every mistake. You'll realize you weren't looking at the camera. Note all these and work on getting better.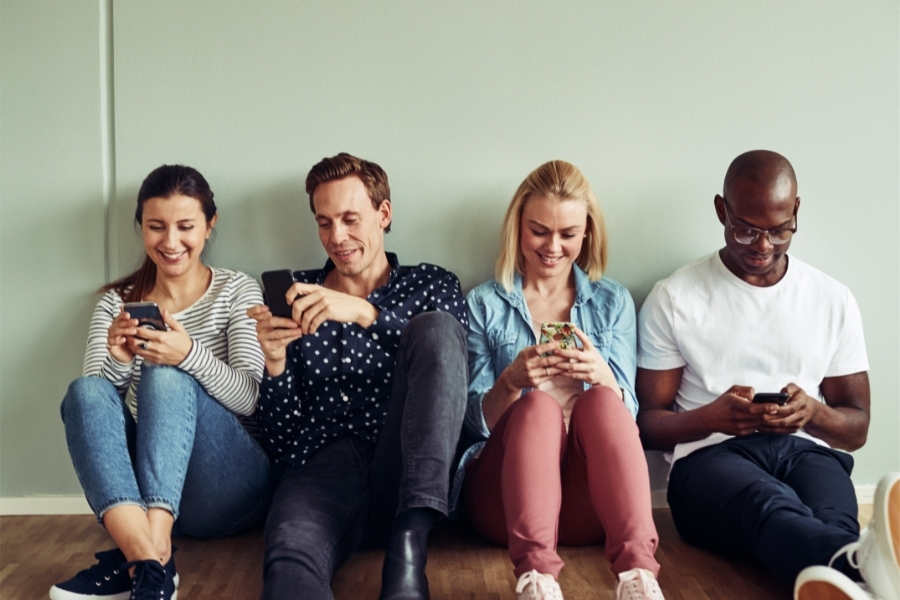 But then, go deeper. Ask yourself questions like:
If you were a prospect, how would you feel?
How was the overall flow? Did it make sense?
Did you focus on value or get lost in the details?
Were you able to advance the sales process? If not, what happened?
Did you miss any important points?
How else could you have created a better experience?
It's a good idea to review the recording by yourself first. But that's not sufficient if you want to really master this tool. If possible, get feedback from your colleagues or boss. Peer coaching is one of the best ways to make giant leaps in performance. Mastery is possible, especially when you get input from others.
THE KNACK OF NAILING IT
There's great triumph in nailing an online meeting. Striking while the iron is hot enables you to quickly capitalise on an opportunity and moves you one step closer to closing the deal. It sets you apart from competitors, deepens credibility, crystallises value and builds relationships. It can even create new opportunities that didn't exist before you said:
"Do you have a few minutes? How about we jump onto a quick online meeting?"
As we've shown, the key to successful impromptu online meetings is being planful and prepared— strategic spontaneity. That's what sales agility is all about.
Start by picking just one scenario where an online meeting could add value to your sales process. Then, review the suggestions in this article, and get going. You'll get better as you experiment with this tool. You'll have richer interactions, greater connections and even more opportunities. Before long, you'll be nailing it all the time too.