Constructing the perfect cold email is both art and science. Principles of persuasion and influence can be used to engage recipients of your emails. These formulas work and can compel prospects to respond.
Here are 7 of the best formulas that boost email reply rates. Each example highlights the language that shows each formula.
(1)
Before-After-Bridge (BAB)
Before! Here's your world now
After! Imagine what the world would be like if you solved this problem
Bridge! Here's how to get there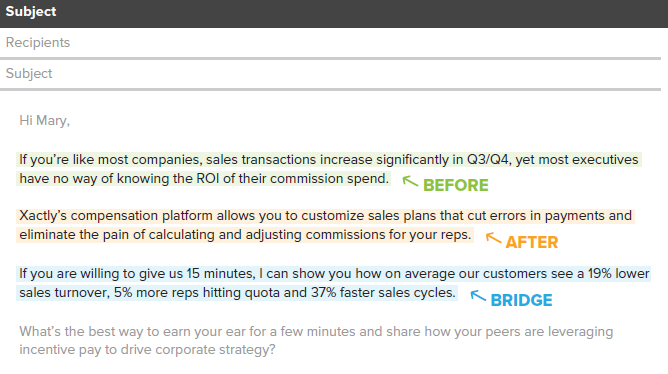 (2)
Problem-Agitate-Solve (PAS)
Problem! Identify a pain point
Agitate! Agitate that pain point
Solve! Offer a solution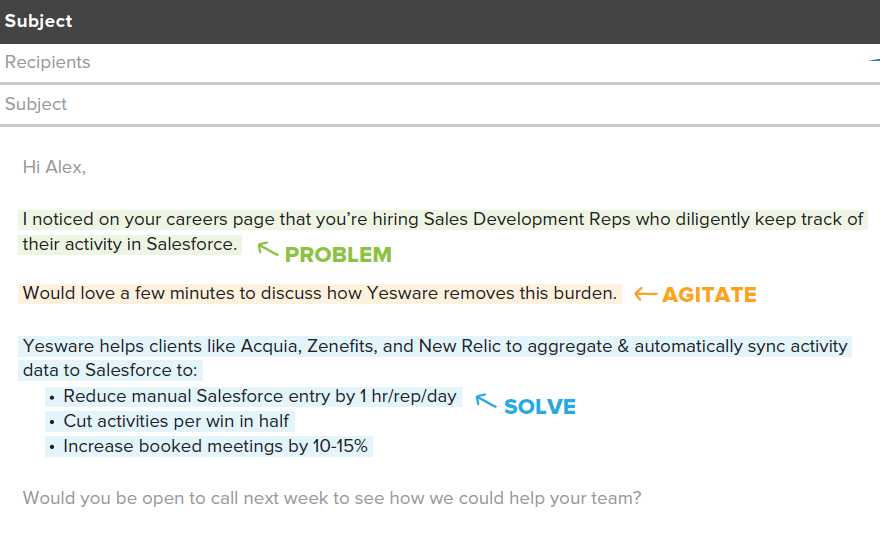 (3) Star-Chain-Hook
Star! The big idea
Chain! A series of facts, sources, reasons, and benefits
Hook! The call to action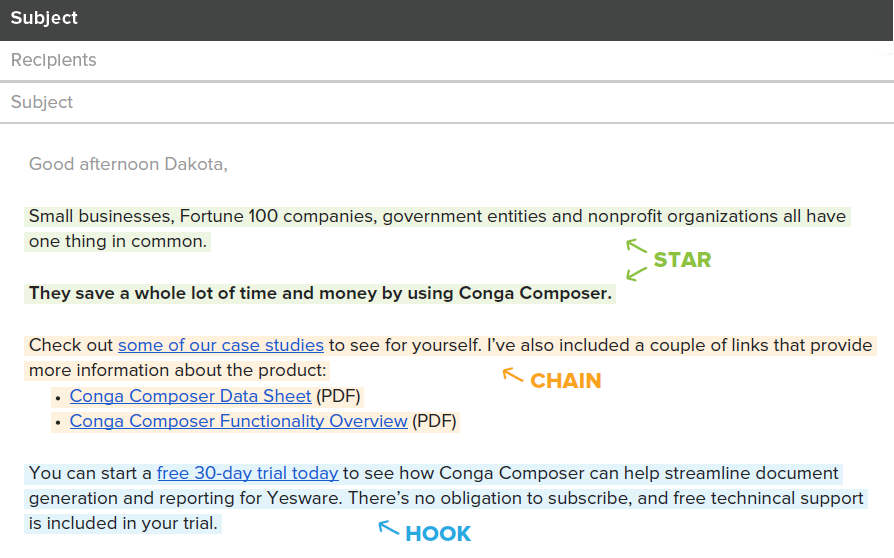 (4) Attention–Interest–Desire– Action (AIDA)
Attention! Grab the reader's attention
Interest! Make it personal to engage their interest
Desire! Build desire for what you're offering
Action! Ask for a response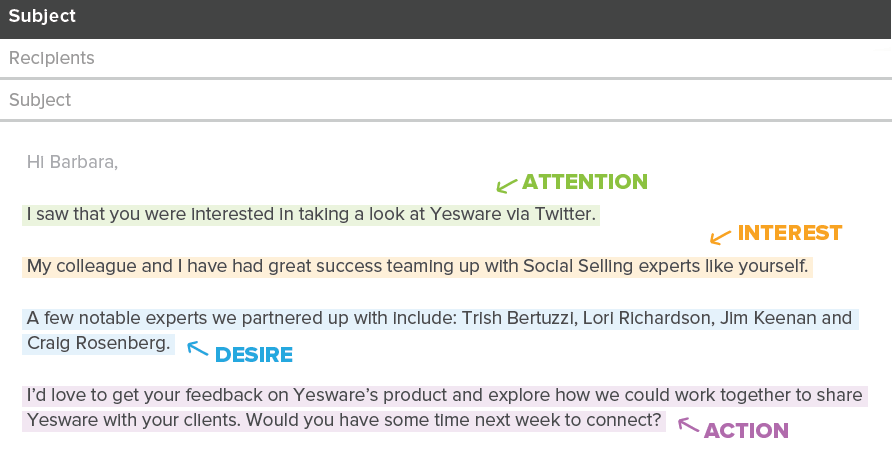 (5) The 3-B Plan
Brevity! Keep it short
Blunt! Get to the point
Basic! Keep it simple
Give the reader a clear sense of who you are and what you want from them.
And get to the point quickly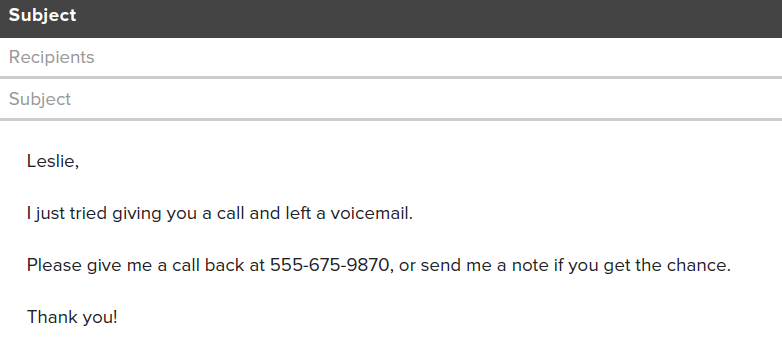 (6) Praise-Picture-Push (3P's)
Praise! Open with a sincere, respectful compliment
Picture! Use cause-and-effect reasoning to paint a picture describing how your product/service/idea will deliver
Push! Ask them to commit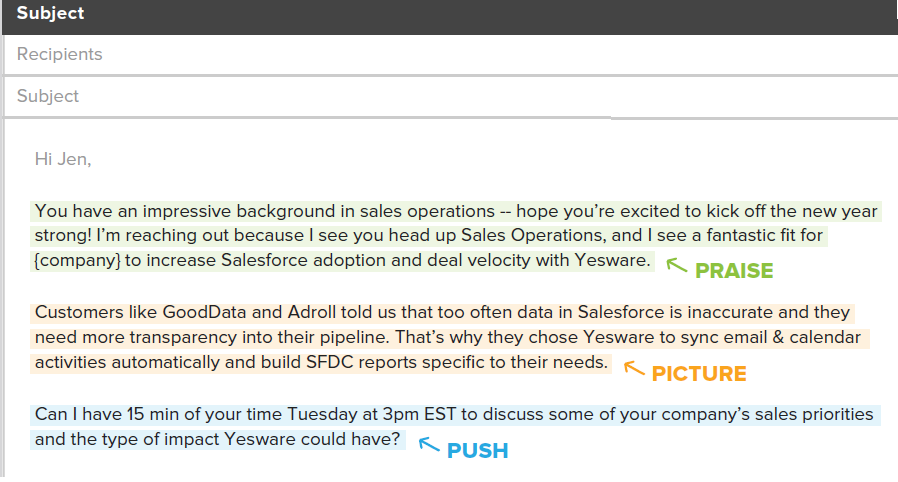 (7) Awareness-Comprehension- Conviction-Action (ACCA)
Awareness! Present the situation or problem
Comprehension! Describe how it will impact them
Conviction! Create desire by explaining how your solution fixes the problem
Action! Ask for a response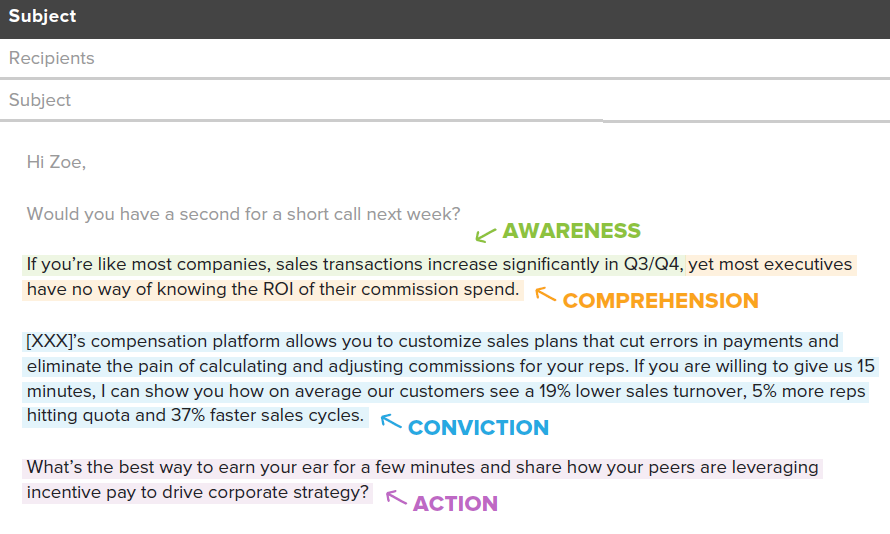 Sourced from the e-book "10 Cold Email Formulas That Just Plain Work" produced by Yesware.