Sales leaders must take a reality check
Every new reality in a business creates unseen challenges for staff. What's important for the business is that leaders recognise these challenges and adapt and remodel their management practices to ensure they help provide solutions.
For sales teams, this has never been more important than it is right now.
The fourth edition of the State of Sales report, which evolved from a survey of almost 6,000 sales professionals worldwide in May and June 2020, revealed that just 26% of sales leaders feel completely capable of adapting team culture, and 28% say the same about staff skills.
These stats on their own reveal an enormous chasm between the expectations of senior management and the reality closer to the ground.
As individuals in sales teams have been physically separated by work-from-home orders, and as customers in that environment have begun to expect greater empathy, trust and personalisation, team culture and skills have been far more difficult to manage and mould.
Our research tells us it's time for a new approach by leaders, one that better suits the new reality of a post-COVID market.
Leadership is no longer about authority
What is that new reality? It's one in which the typically co-existing and complementary concepts of leadership and authority have been decoupled. It's one in which the structure the office once gave to relationships and channels of communication have been shattered. And it's one in which trust and capability walk hand in hand – the leader's job is to ensure their people have the necessary capabilities to do the required work, and then to trust them to get it done.
The successful sales leader in today's environment will democratise leadership. In other words, they will accept that every member of their team is now, by necessity, a leader. As such, they must be provided with the right tools, offered powerful motivation, then encouraged to add value to the business in an environment of collective power and responsibility.
What does this mean on a practical level? In terms of providing their people with the right tools, it means sales leaders must accelerate digital transformation and ensure their people are confident with using the new systems.
The State of Sales report told us 77% of sales leaders say their digital transformation has accelerated since 2019. This is an excellent sign, as it means members of sales teams will be better equipped to build relationships with customers independently and effortlessly.
In fact, digital technology's automation of previously manual processes – logging sales data, generating quotes and proposals, prioritising leads, reporting progress, etc. – will free sales team members to focus more on increasingly important issues, such as building trust with customers.
The report also points to the necessity for greater training of sales staff. Tellingly, our research said high performing sales leaders are 4.8 times more confident in their training abilities than their underperforming peers.
With 70% of businesses currently retraining their field reps to sell from home using new tech and different communications methods, it means those that don't continually train teams to adapt in new conditions will be left behind.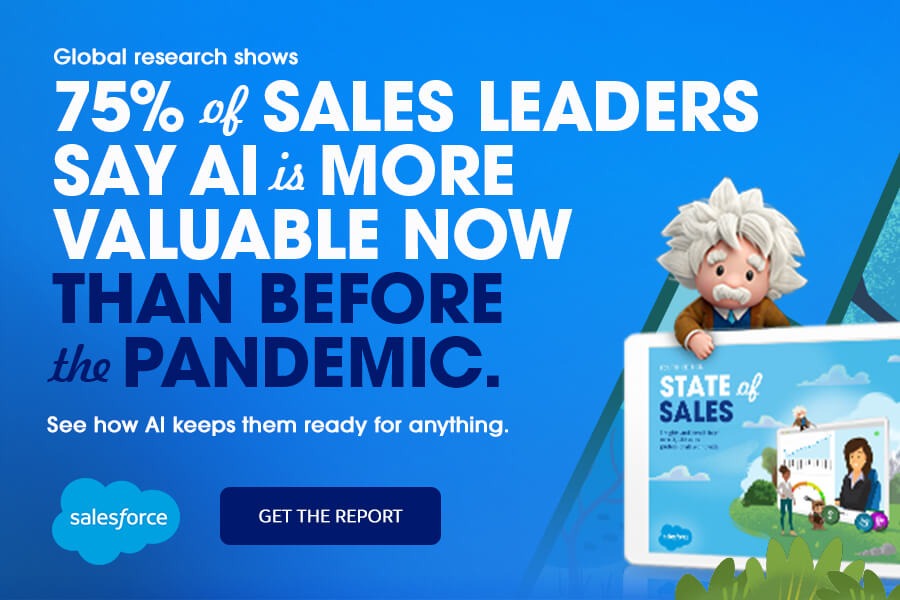 Sales leaders must take a reality check
Is it any wonder that sales leaders are having a difficult time managing culture, when sales reps themselves are struggling with having to adapt to new ways of selling? In fact, 79% of sales reps tell us they've had to adapt to new ways of selling very quickly.
In that case, the leader's task changes from one of setting performance goals to enabling success through empowerment and training. That empowerment comes through a mix of technology, new responsibilities, changing sales metrics and shifting focus – to the building of trust with customers, for example.
Importantly, the expectations of leaders must change. Our research revealed just 54% of outside reps feel expectations from sales leadership match the current selling reality. And only 46% feel their relationships with customers are stronger than they were in 2019.
Becoming familiar with the reality of the market and aligning expectations with that reality are vital ingredients for sales leadership success. That familiarity, the State of Sales report tells us, comes from a mix of national, local and industry news sources and internal insights such as customer communication and customer purchase activity.
Sales leaders must get comfortable at the big table
The big-picture shift is in the fact that the strategic importance of sales operations is increasing.
To experience success, sales leaders must not only focus more clearly on the changing market and on their own, individual staff members. They must also focus upwards, on the organisation's strategies, to ensure their own goals and processes are aligned.
This is clearly happening right now, since 75% of sales operations professionals tell us they have new responsibilities and 85% sales professionals agree sales operations is increasingly strategic.
Further, 89% of sales professionals tell us sales operations plays a critical role in growing the business.
To navigate uncharted territory, organisations have to become tighter units, all sharing a clear understanding of a common goal. Sales teams, with silo walls removed, have become a vital part of that goal becoming a reality.
Find out the latest sales trends and insights guiding sales professionals to recover and grow in the fourth edition of the State of Sales report.
Want to hear what other sales leaders think about the future of selling? Register for our upcoming webinar Unpacking the State of Sales: What are the next steps for sales leaders? on 29 October, 2020 and hear from the best in the business, including sales expert Tony Hughes, Trailblazer Fisher & Paykel and Salesforce ANZ Chief Commercial Officer Ian McAdam.