I started to feel sick last night and some of you might too.
As I strolled around the supermarket, I noticed something which I had never seen before. The discount tags had been removed from nearly every item. My trolley had the usual items and it would normally tally to around $120, plus or minus $15. But I was in total shock when the register showed a total exceeding $170. I asked the assistant about why prices were so high and she chose not to respond and just smiled.
As I packed my car, there was no more than five bags and I felt that there was an injustice happening so I went to Facebook to share my frustrations!
- Advertisement -


And started to see that others are experiencing the same issue which is price increases in inappropriate times:


I would agree that supply and demand is in effect and the recent panic buying has created major shortages:

But it seems that we were informed of these changes? Did anyone get the press release? I couldn't seem to find in on their website.

I am told via a reliable and friendly source on my Facebook post that Woolworths has removed the number of discounted items by about 75%!
So here is my concern.
People are losing jobs and we've seen this via the long queues at Centrelink:
If you have lost your job, have rent to pay and dependant children to support – how far does that Centrelink payment go when supermarket giants have just reduced the amount of necessities you can fit into your trolley.
It is inevitable that the economy will fall into recession (two quarters of negative growth) and economic theory suggest that food prices (The Consumer Price Index) also falls.
Below, it the CPI from the December 2019 quarter. Putting my Economics degree hat back on for a moment, I would say that as we fall into recession, the CPI for food and will increase!
This is fuelled by forces of supply and demand however supermarkets choose to make the decision whether to "keep prices low"!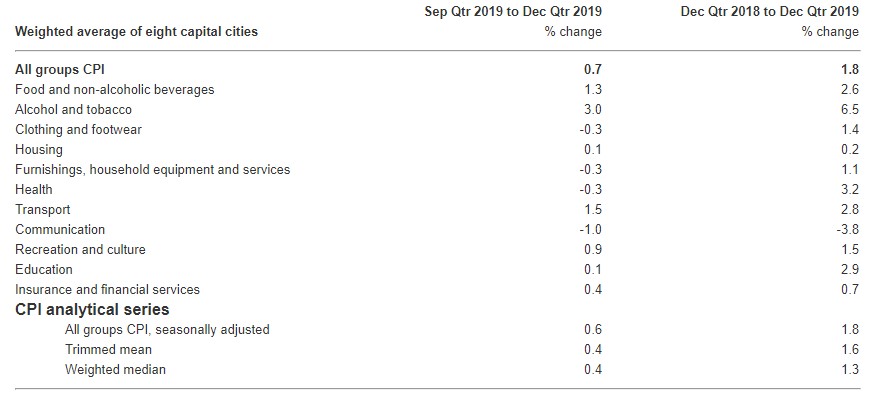 In any business, there are two levers to increase or decrease revenue. Pricing and quantity.
Quantity – assuming pricing remains unchanged, the more product that is sold leads to higher
revenue.
Pricing – assuming demand remains unchanged, increasing prices leads to higher revenue.
Now, in such times, demand has increased which means that supermarkets are
now reaping full benefits via a reduction in discounts and increase in volumes. Even though the supermarkets are not increasing prices, they are revenue & profit generating via two methods:
Changes in demand
With an increased demands by the community (and hording or stock pilling), it translates into a significant increase in demand. Products that would normally sell at a slower pace have now increased significantly e.g. toilet paper. Expected sales would now be much higher than originally forecast. This means that their supply is not meeting the increased demand hence increased production leads to a significant revenue increase and higher profit for the period.
2) Lack of alternatives
The products in which supermarkets would normally place on special are now down to a minimum, if not empty. The underlying reason for any item to be placed on special is to reach a point where the price being offered by the buyer, matches the price that customers are willing to pay. Given the closures of other stores, the majority of items can be sold at the recommended retail price eliminating the need to discount.
Supermarkets are the main beneficiaries of the Coronavirus, economically speaking. They have increased sales volumes and due to high demand, they have reduced the need to offer any specials to move inventory.
Supermarkets are assisting the community by providing times in which senior citizens and health care workers can purchase, however, they have the ability to give back much more by reducing their overly inflated profits and revenue – as disposable income declines.
As sales professionals we talk about strategies to maximise conversion,
revenue and customer retention and there is an ethical obligation to do right
by your customers. Whether supermarkets are doing right by their customers, I am unsure about.
I am concerned for all Australians who will struggle to put food on the table – as food prices are on the rise and buck economic theory in a recession.
Since posting my opinion, Yahoo! Finance have picked up on the story and have contacted the ACCC and supermarkets for commentary – here is the link: Behind supermarkets' 'price gouging'.